What cigar lovers said about the new Boveda Smart Sensor
The Boveda Smart Sensor Starter Kit is now out in the cigar world! Before you could buy it, we asked several cigar collectors to try it out in their own home humidors to monitor humidity and temperature. (Kick its virtual tires, so to speak.)
Peruse the beta testers' comments below along with more details about the Boveda Smart Sensor. Learn why staying connected to your humidor is something that's been missing in your life. (As far as your cigar hobby goes.)
 "I can see what's going on inside my humidor
without having to open the lid!"
– Boveda Smart Sensor Beta Tester Comment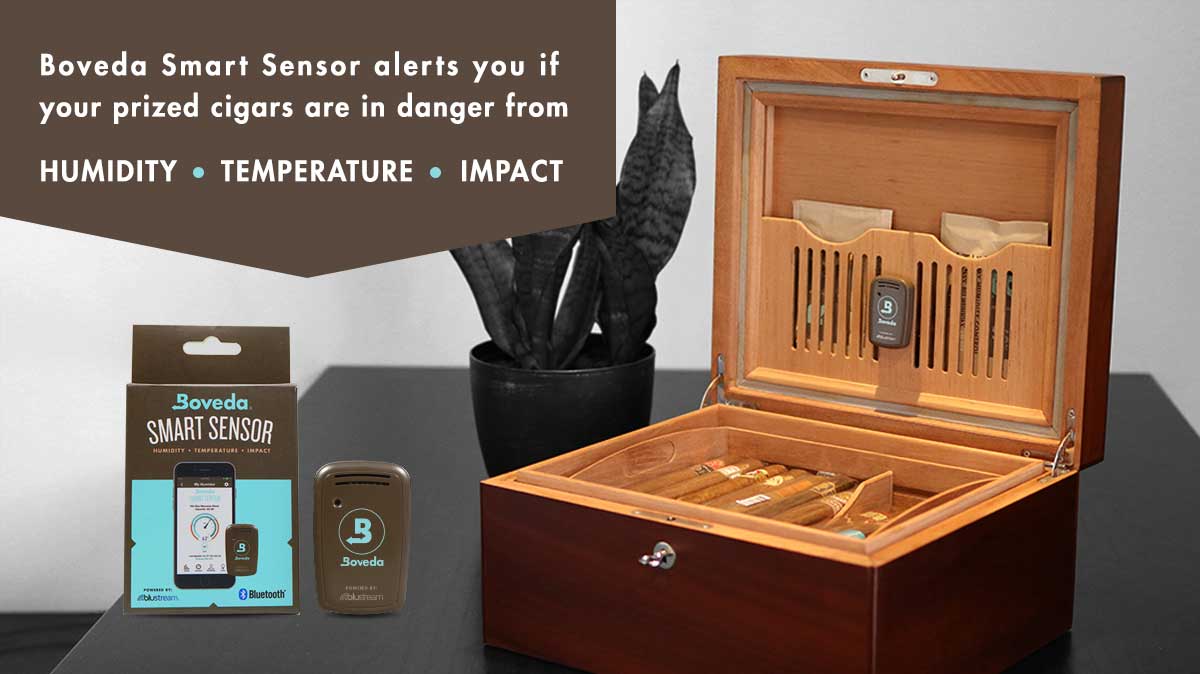 What is the Boveda Smart Sensor?
It's the latest tech developed by Boveda to care for your premium cigars. The Boveda Smart Sensor monitors conditions inside your humidor, like humidity, temperature, impact and much more. Then this little cigar watchdog sends real-time data and alerts to your smartphone or tablet.
"One day it said 66%, and I thought that was odd. I looked and sure enough my Boveda humidor wasn't closed all the way. I wouldn't have known otherwise and could have gone days putting my cigars at risk."
– Boveda Smart Sensor Beta Tester Comment
How does the Boveda Smart Sensor work?
The Boveda Smart Sensor goes right in your humidor. Lay the sensor on your cigars or affix it to your humidor's lid. The sensor communicates via Bluetooth® to the free Boveda app on your iOS 8.0+ or Android 5.0+ mobile device. You can now access your humidor's conditions all the time. And you can extend the sensor's reach to access real-time data from anywhere by syncing it up to a second compatible tablet or phone.
What does the Boveda Smart Sensor monitor?
Detects humidity and temperature changes as they happen
Keeps a history of daily, monthly and seasonal patterns that may affect your cigars
Gauges the freshness of your Boveda and alerts you when it's time to reorder
Senses if your humidor's been moved, dropped or opened
More humidor data than you can shake a stick at (but don't do that, you'll damage a good cigar)
"Every feature is fantastic. The most important ones for me are the alerts. With the smart sensor and app I'm confident in the condition of my cigars. If anything needs attention, I know I will be alerted. It's like having a cigar guardian watching over everything."
– Boveda Smart Sensor Beta Tester Comment
Isn't Boveda enough?
The Boveda Smart Sensor works along with Boveda's patented 2-way humidity control. Boveda continually responds to ambient conditions by adding or absorbing moisture to maintain a precise relative humidity (RH) level for your cigars.
With the sensor, you can now watch how effectively Boveda does its job. Really geek out with your cigar hobby. Just for fun, see how quickly Boveda brings your humidor back to equilibrium after you add new cigars or open your humidor. Watch readings really change when it's time for new Boveda.
Why does the Boveda Smart Sensor send alerts?
Do you have the time to lord over your humidor 24/7? Your Boveda Smart Sensor does. Your humidor is constantly battling internal and external forces—anything from a leaky lid and new cigars to an open window or adjacent heat/AC vent. When the Boveda Smart Sensor detects readings outside your normal humidor patterns and pre-set parameters, your sensor sends you an alert. Cigar damage averted before you even realized there was a problem.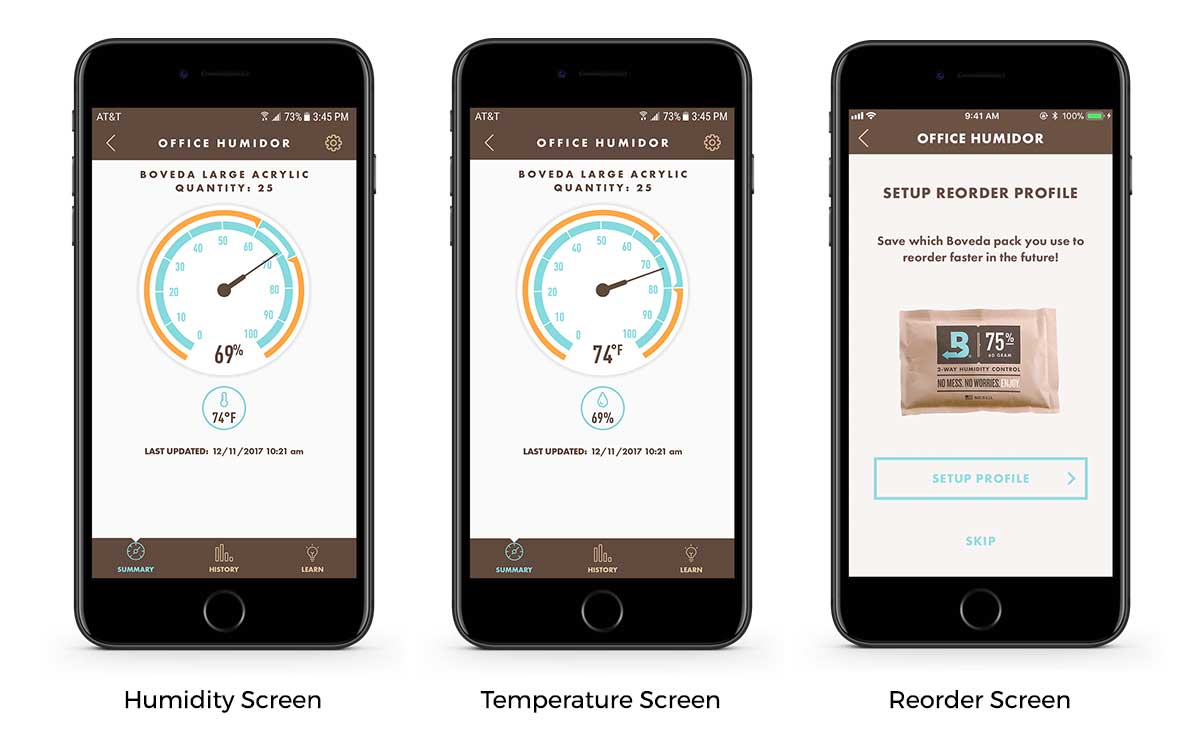 Humidity Alerts
Cigars like a humidity sweet spot that's consistent and precise. Too moist and your cigars could mold. Too dry and they'll burn too fast. And humidity swings can do a real number on your humidor. Cracked wood. Warped lid. Bad seal. Let's avoid all this, ok? The Boveda Smart Sensor sends an alert if there's a humidity problem.
 "Able to get instant updates on temps and humidity."
– Boveda Smart Sensor Beta Tester Comment
Temperature alerts
Even the most smokin' cigar can be too hot—or too cool. (And not in a good way.) Low temps can dry out cigars and make tobacco brittle. High temps can encourage growth of all sorts of nastiness, including fungi and the tobacco beetle larvae. The Boveda Smart Sensor monitors the temperature inside your humidor. If an unhealthy cigar temperature is detected based on your personal settings, you'll receive an alert and a link with advice on what to do from Boveda's cigar experts.
Boveda auto reorder notification
Ever find hard, crunchy Boveda in your humidor and wonder, "When did that happen?". No more! The Boveda Smart Sensor detects when your Boveda needs refreshing then alerts you to reorder Boveda right from the app. Instead of relying on some arbitrary subscription schedule, you can now buy Boveda when you really need it. Never again leave your cigars without Boveda's 2-way humidity control.
"I love the easy visual interface–and seeing the graphic of where current conditions are within my set acceptable range."
– Boveda Smart Sensor Beta Tester Comment

Impact alert
Sharing cigars is one of the joys of being a cigar lover—but only when you're part of the experience. If someone is tapping into your prized collection—like a handyman, a teen or an assistant—you'll know it. Boveda Smart Sensor is your security guard that notifies you if your humidor is opened, moved or dropped. It records the date and time of the incident, so you can follow up on the cause (or perpetrator). How CSI!
Battery Alert
A sensor is no good if the battery dies. With Boveda Smart Sensor, you'll always know how much juice is left. Reach 30% battery life and you'll receive an alert. Drop to 10% and you'll get a warning. Plus, you can check your battery life anytime through the Boveda app to ensure that a watchful eye is still powered on your cigar collection.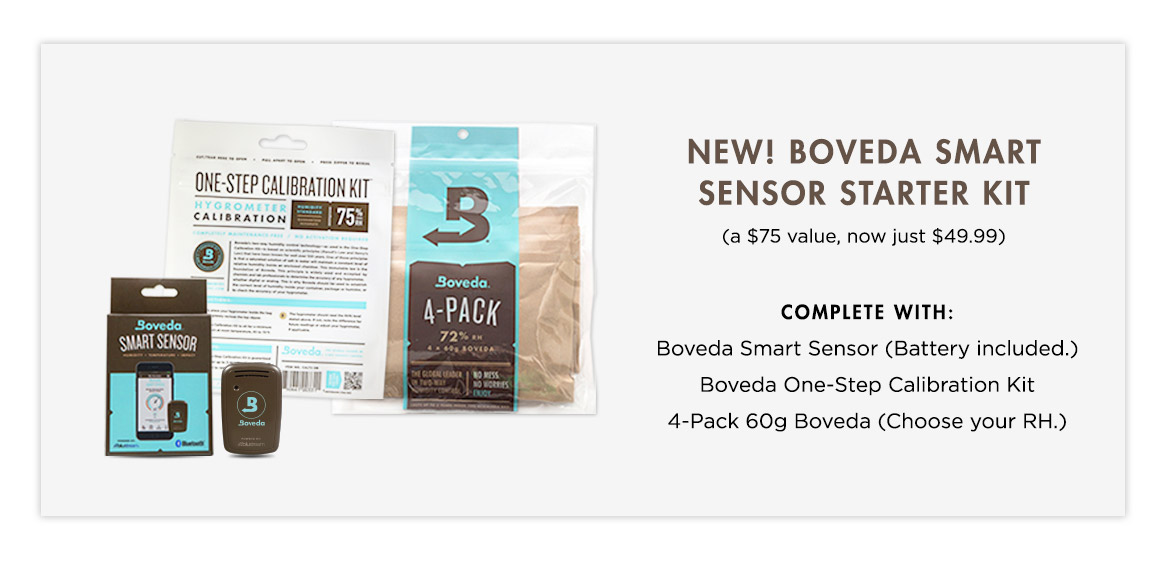 Why the entire Boveda Smart Sensor Starter Kit?
Ever get a toy without the batteries? Rookie move. At Boveda, we're cigar experts. We included all you'll need to get this cigar tech up and running. (Including the battery!) So, whether you gift the Boveda Smart Sensor Starter Kit to another cigar lover or keep the kit for yourself, you're ready to go, right out of the box.
Boveda One-Step Calibration Kit
And right out of the box, you must first calibrate the sensor with a Boveda One-Step Calibration Kit. In fact, Boveda President & CEO, Sean Knutsen insists that a one-step calibration kit accompany every Boveda Smart Sensor before it leaves HQ.
Calibration is one of the most important parts of caring for and preserving your cigars. How will you know if your cigars are at the appropriate RH level if your sensor isn't calibrated?
The one-step kit assures that your sensor will start off with an accurate RH reading. (After the 24-hour calibration, if the reading is off by a few percentage points, you'll adjust the calibration number in the Boveda app.) After you calibrate your sensor, you'll sync it up to the Boveda app and introduce your Boveda Smart Sensor to your humidor.
4-pack 60g Boveda (choose the RH when you order)
Ever the cigar pros, we included a 4-pack to make sure you have an ample supply of Boveda.
Remember use at least one 60g Boveda per 25 cigars that your humidor holds, even if it isn't full. It's still air space and wood that needs proper humidification. Boveda will never over humidify beyond the number printed on its pack. Using more than 60g per 25 sticks means Boveda works more efficiently and lasts longer.
And don't mix Boveda RH% levels in your humidor. Just don't.
Can a sensor work for more than one humidor?
No. Each humidor needs its own Boveda Smart Sensor. Solo sensors are available for an additional $39.99. Any additional sensor arrives with its own Boveda One-Step Calibration Kit. Thank Sean, he's always thinking.
Now let's hear from you
Share your impressions of the Boveda Smart Sensor Starter Kit with other cigar lovers. Order yours and share your thoughts on social. Happy cigar teching!
Nab the introductory price. Boveda Smart Sensor Starter Kit (a $75 value, now just $49.99)