Boveda is the world's easiest and most reliable humidification system, and we make your life even easier with our AutoShip program.
Here's how it works: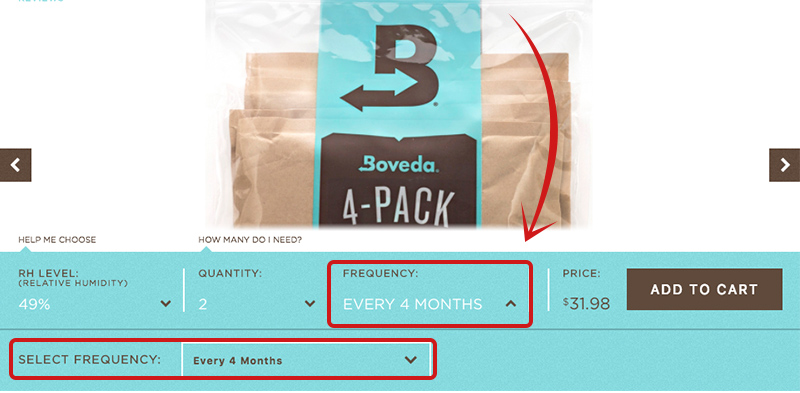 1. Shop for the product you'd like to buy. When you add the item to your cart, the default selection is "One-time Only". If you want to automatically receive Boveda in the future, simply choose a time interval from the dropdown list and add to cart.
2. We'll mail Boveda to your door every [The interval you chose] months.
The arrival of each new set of Boveda is your built-in reminder for when to throw out the old Boveda and replace with the new.
3. Place the Boveda in your humidor, with your medicinal cannabis or music case. If there is a plastic overwrap on the Boveda, remove it. 20-pack bricks do not have an overwrap on the individual Boveda.
4. Never worry about maintenance again.
No more guessing if or when to refill your humidifier, ever.
5. Cancel or change your AutoShip items any time by logging in to your account and navigating to autoship preferences. There is no commitment.


AutoShip Reminders
3 days before your next autoship order is due to be placed, you'll receive an e-mail reminder about the upcoming order. This gives you ample time to login and make any changes before the order is placed. If your credit card has changed or expired since the last time you placed an order, please update your credit card online to ensure your shipments arrive to you on time.


Payment for Autoship
In order to participate in the AutoShip program, you must use a credit card as your payment type – you cannot use PayPal. We use an ultra-secure payment tokenization credit card security system so we don't store your credit card number. You can rest assured that your payment information is safe with Boveda.


Shipping
When we process your subsequent autoship orders, we use the cheapest shipping method available at the time the order is placed, while taking into consideration U.S. Postal Service weight guidelines. For example, heavier packages may ship Priority Mail because of the weight limit on First Class Package Service. We never ship autoship orders Express service, even if you select Express for your initial order.